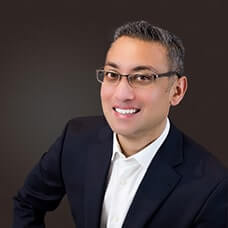 Dipesh Sitaram
, DDS, MICCMO, FICCMO, OCF
Dr. Dipesh Sitaram approaches everything he does with a passion for doing it well. After earning his dental degree from Indiana University, Dr. Sitaram immediately opened a private dental practice in Indianapolis that grew quickly. He later opened Dental Solutions of Columbus, a second highly successful practice that Dr. Sitaram has since expanded to include an oral surgery and implants center within the office. Dental Solutions is a place where anyone can come and there will be a solution for their dental needs. And not just any solution, but superb, personalized treatments performed by great people using state-of-the-art technology.
Dr. Sitaram is a unique kind of dentist with whom patients truly enjoy interacting as they entrust their oral health to his expert care. He focuses on relationships, including listening to and understanding his patients' needs, and he has a quick sense of humor as well. Dr. Sitaram knows what a huge difference it can make in your life to have a healthy and attractive smile, and he believes the process to get there can be pleasant and fun.
Dr. Sitaram has always gone far above and beyond the required annual hours for continuing education and completes approximately 200 hours of courses every year. He works hard to stay up-to-date on advancements in dental treatments and technologies because they create many additional benefits for his patients. As part of his extensive pursuit of postgraduate training, Dr. Sitaram completed Dr. Clayton Chan's Occlusion Connections curriculum and was awarded a fellowship with OC. He also earned a fellowship with the International College of Craniomandibular Orthopedics (ICCMO). His additional training in these focus areas includes:
Orthodontic training and an orthotropics residency with Dr. William Hang, DDS, MSD of Face Focused Orthodontics and Dentofacial Orthopedics®, and with Dr. Brock Rondeau of Rondeau Seminars, OSA University (Obstructive Sleep Airway University).
A residency program with Dr. Simon Wong and Dr. Sandra Kahn of Forwardontics.
A Controlled Arch Residency with Dr. Chris Simmons and Dr. Steve Gallela of The Facial Beauty Institute.
These mentor dentists and residency programs have provided leading-edge clinical instruction and experience based on the guiding principles and essential skills for complete dental care, bite correction, and teeth straightening. Dr. Sitaram's training focused on occlusion (bite), the temporomandibular joints (TMJ), and comprehensive restorations, which have all become an integral part of his practice. Dr. Sitaram's other continuing education includes:
Spear Curriculum through the prestigious Scottsdale Center for Dentistry, plus an invitation to join the exclusive Spear Faculty Club (SFSC). This exclusive membership opens up numerous dental training, networking, and mentoring opportunities. Dr. Sitaram has also started a Spear Study Club for dentists in Indianapolis to help doctors with continuing education
CEREC® Doctors and mentor group, another part of the Scottsdale Center that revolves around CEREC one-visit dentistry and the amazing technologies that make it possible.
Cranio-Cervical Dynamics course with Dr. Marianno Rocabado and Dr. Javier Vasquez.
The Breathe Institute and becoming a Breathe Ambassador after completing renowned training with Dr. Saroush Zaghi on frenulum inspection and frenectomy surgery.
IV sedation certification program through DOCS Education taught by Dr. Anthony Feck, a mentor to some of the most successful dental professionals in the U.S.
Dr. Sitaram is proud to extend his knowledge and experience to patients undergoing oral surgery at St. Francis Hospital as well. After completing advanced coursework in both oral surgery and IV sedation, Dr. Sitaram is able to treat patients with highly complex and severe dental issues safely and effectively. His main focus is temporomandibular joint disorder and TMJ-related dental trauma, but he is also well-versed when it comes to performing other procedures like wisdom tooth removals and bone grafts.
Dr. Sitaram and his family are active in their local community. Having been blessed by high-quality education, Dr. Sitaram and The Sitaram Foundation are helping fund a college in India that Dr. Sitaram's grandfather assisted in starting. Dr. Sitaram has a dream to one day open a dental school on the campus. The Sitaram Foundation aims to promote educational and career opportunities for those in Third World countries. Dr. Sitaram's professional accomplishments and passion for dentistry have earned him the award, America's Most Honored Dentist – 2022, placing him among the best in dentistry.
In his personal life, Dr. Sitaram and his beautiful wife, Komal, love spending time together with their children. Their daughter, Medha, was born in 2010, and their son, Raghav, was born in 2012. Of everything in his life, Dr. Sitaram considers his family to be his ultimate achievement and greatest joy!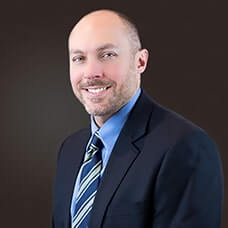 Gabriel Hostalet
, DDS, OMFS
Dr. Gabriel Hostalet, our oral surgeon at Dental Solutions in Columbus, was raised in suburban Chicago. After graduating from high school, he completed his undergraduate studies at the University of Illinois at Urbana-Champaign (UI), finishing in three years. Dr. Hostalet then attained his dental degree from UI's College of Dentistry in Chicago. During dental school, Dr. Hostalet was selected to participate in the Honors Program and to be inducted into the Omicron Kappa Upsilon National Dental Honor Society. Additionally, he received the Community Dentistry Award for charitable work and the Daniel Seldin Award for excellence in the area of oral surgery.
Following dental school, Dr. Hostalet completed a one-year General Practice Residency in New York before returning to the Midwest for a four-year residency in oral and maxillofacial surgery at the Indiana University Medical Center. During his final year of residency, Dr. Hostalet served as Chief Resident. He finished his rigorous program in 2005. Dr. Hostalet is a Diplomate of the American Board of Oral and Maxillofacial Surgery, and he is a Fellow of the American Association of Oral and Maxillofacial Surgeons.
Dr. Hostalet chose to pursue a career in oral surgery because he saw it as a unique bridge between dentistry and medicine. He understands that dental care—oral surgery in particular—commonly causes people to feel anxious. Knowing this, Dr. Hostalet and his patients appreciate that his training allows him to provide intravenous (IV) sedation to make oral surgery as comfortable as possible at our dental office in Columbus. Another aspect of oral surgery that Dr. Hostalet loves is the ability to help reconstruct people's smiles! Whether patients are missing teeth because of dental disease, cancer, injury, or any other reason, Dr. Hostalet knows it affects both personal health and self-esteem. He finds it extremely rewarding to participate in the process of giving people their smiles back. The science and art of oral surgery, especially implant dentistry, is ever-improving, so Dr. Hostalet takes continuing education very seriously to keep up with new advancements in his field.
Having grown up in the Chicago area, Dr. Hostalet is a lifelong fan of the Chicago Cubs. He continues to wait patiently for their return to the World Series! In addition to being a sports fan, Dr. Hostalet enjoys playing sports, including golf. His greatest passion, which he also considers his greatest achievement, is his family. He is the proud father of three lovely children, Sydney, Harrison, and Brady.
Partners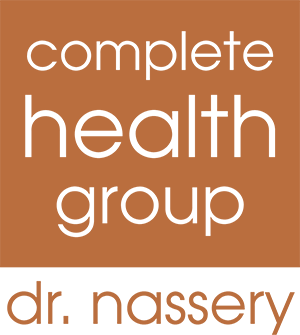 Complete Health Group
Complete Health Group provides quality healthcare for patients as well as great perks for dentists, investors, and physicians. We build dental solutions and help them succeed.
RealSmile Clinics: Our two locations, RealSmile Clinic and RealSmile Express, provide accessible, high-quality dentistry to patients with a diverse range of dental needs.
The TMJ Research Foundation: This 501 C non-profit organization helps diagnose and treat issues with the craniomandibular and craniocervical systems.
Trainings & Conferences: At CHG, we provide practice training, multidisciplinary approaches, and state-of-the-art technologies to the dental field.
Our Esteemed CHG Lead, Dr. Nassery
Dr. Nassery is a dentist and industry leader practicing in South Florida, where he is also known as one of the leading specialists of Physiologic Dentistry. He believes that Physiologic Dentistry is life changing for many patients suffering from neck pain, chronic headaches, sleep issues, snoring problems, and many other more serious temporomandibular disorders.
His goal is not to look at each single tooth in order to solve a problem, rather to inspect the complete physiologic and anatomical system of the head and neck, treating the patient as a whole.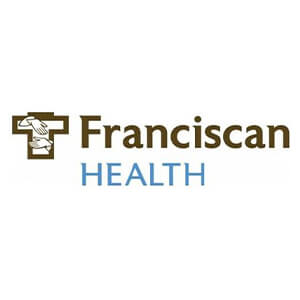 Franciscan Health
Oral surgery services are performed on an outpatient basis at St. Francis Hospital, allowing patients to have their advanced dental issues treated in the comfort and safety of a renowned hospital.