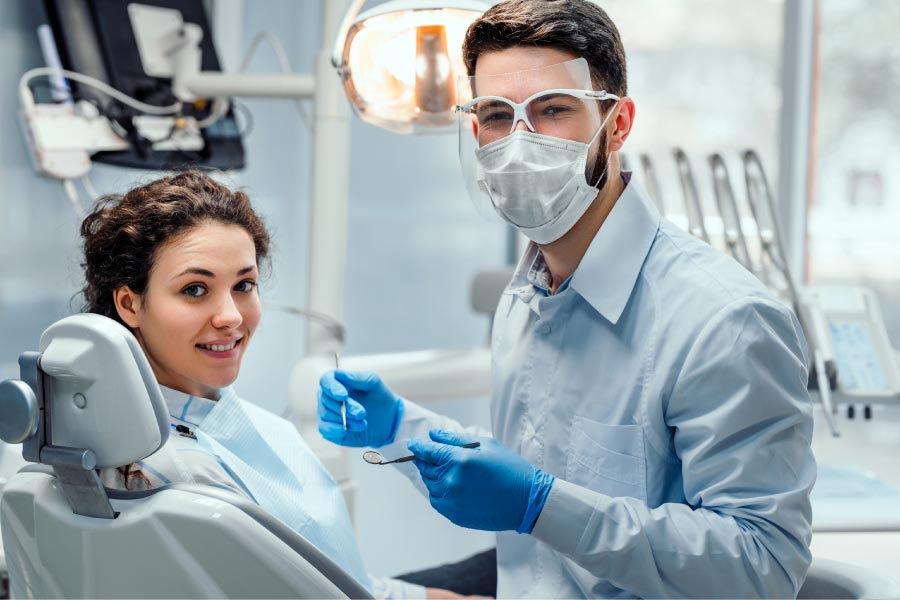 Due to the COVID-19, much of our activities these days involve looking up regulations, weighing the risk, and assessing our own comfort level. One such activity that has come up in discussion a lot recently is visiting the dentist. Given the nature of the field, many people are left wondering if it's safe or even recommended to go to dental appointments—and if that answer changes if it's for a routine visit versus oral surgery. Here's what you should know:
General Safety Protocols in Place
Dental practices are always held to specific regulations in terms of disinfection and sanitation to protect their patients. In addition to these, dental practices are adopting other health and safety protocols in order to reduce risks associated with COVID-19.
For example, dental teams are wearing personal protective gear (PPE), including face masks and shields. Practices are taking visitors temperatures as they enter, requiring the use of hand sanitizer, and implementing social distancing rules. All of these come together to make the dental practice as safe a space as possible for both patients and staff during this difficult time.
Importance of Continued Dental Care
Whatever may be going on in the world, it's important to continue caring for your dental health just like with your general wellness and your mental health. If you're experiencing a dental emergency, we strongly recommend that you visit a dental office with strict COVID protocols in place so that you can get the care you need. When it comes to dental emergencies, waiting can cause the problem to worsen, putting your overall health at risk.
Speaking about oral surgery specifically, some procedures may count as urgent while others may be deemed elective. If you want to know if it's important for you to get oral surgery as soon as possible for the good of your health, we recommend speaking with a dental professional.
Creating a Safe Dental Environment
Rest assured that at Dental Solutions of Columbus we are going the extra mile with our safety measures to prioritize our community's health and make our patients feel at ease. If you have any questions about visiting our modern dental office or you'd like to ask questions about oral surgery, please don't hesitate to call or email us.
Contact us to learn more about the services we provide! We look forward to hearing from you!