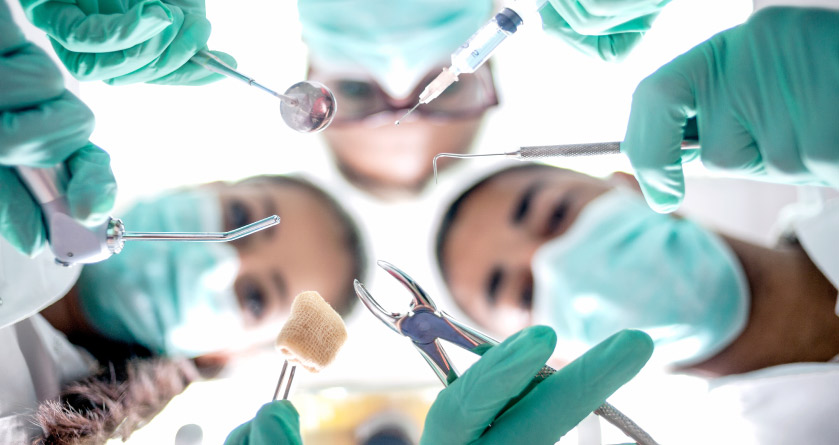 We are proud to host the Columbus Center for Implants & Oral Surgery inside our office at Dental Solutions of Columbus as it allows us to provide comprehensive care for our patients under one roof. Although oral surgery is probably the last thing on your wish list, we will strive to make your procedure go smoothly and have you back to normal as soon as possible. Read on to learn why you should choose us as your go-to oral surgery center!
3 Reasons You Should Choose Our Office
1. Our Expert Team Cares About Your Smile
Our certified oral surgeons,
Dr. Hostalet
and
Dr. Shelton
are highly-qualified to provide a range of specialty oral and maxillofacial treatments, from routine wisdom teeth removal to emergency extractions to jaw reconstruction to
dental implants and implant-supported dentures
. Our practice only performs procedures we think are absolutely necessary so you can be confident that your oral health is truly our priority!
2. You'll Receive the Highest-Quality Care
We utilize state-of-the-art
GALILEOS 3D X-ray technology
to take detailed images of our patients' mouths. This amazing technology allows us to digitally and precisely plan your treatment
before
surgery for even better results. Moreover, whether you're having wisdom teeth removed, a tooth extracted, or a more complicated kind of oral surgery, our team will explain exactly what will happen during the procedure. Together, with you following our instructions and with us utilizing our years of experience, we'll make sure everything goes as planned.
3. Relax with Multiple Dental Sedation Options
We offer safe dental sedation options, including nitrous oxide (or laughing gas), oral conscious sedation, and intravenous (IV) anesthesia. Depending on your procedure, we will determine the right type of sedation to help keep you calm, relaxed, and completely comfortable while limiting side effects. For most oral surgery procedures, we use oral conscious sedation or intravenous (IV) anesthesia. Oral conscious sedation is a pill taken before the appointment that will allow you to remain awake but extremely calm with minimal to no discomfort during treatment. For IV anesthesia, a medication delivered directly into your vein causes you to fall asleep during your surgery. No matter which form of sedation used during your procedure, we will give you clear instructions concerning any side effects and how to prepare.
We Look Forward to Hearing From You!
Although oral surgery may be an inconvenience, you can rest assured that you are in good hands at Columbus Center for Implants & Oral Surgery. Our highly-trained team is experienced in providing the highest quality care to our patients from initial consultation to treatment to recovery and post-operative care. To ask our team any additional questions about our oral surgery center or to schedule a consultation at our office for a dental procedure,
contact us today!