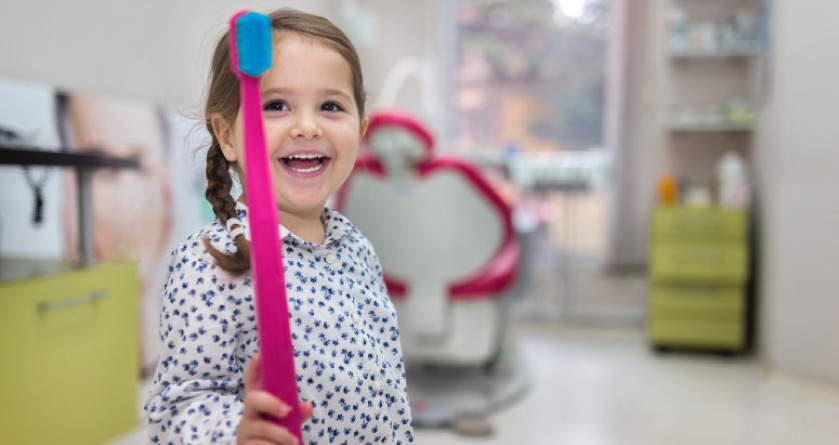 It's important to establish a solid oral hygiene routine from a young age. Helping your child take proper care of their adult teeth as soon as they erupt will set them up for long-term success, and we're here to help you do just that! At Dental Solutions of Columbus, we offer comprehensive pediatric care so that your child can have a perfectly healthy and beautiful smile from day one. Read more about our pediatric services below!
What Is Pediatric Dentistry?
Pediatric dentistry is dental care that is especially tailored to a child's unique needs and comprehension level so that they feel comfortable during their dental appointment. During your child's visit at Dental Solutions of Columbus, our staff will carefully assess your child's oral health and create a customized plan to help them maintain optimal oral health. We're proud to offer pediatric services here at Dental Solutions of Columbus and always look forward to teaching little ones how to take care of their smiles.
Protection From Cavities
Consistent brushing and flossing is the best way to prevent cavities, followed by a healthy, balanced diet. But if your child requires additional protection against cavities, Dental Solutions of Columbus has the perfect solutions for them. We offer gentle fluoride treatments which safely help prevent decay, along with sealants which fill in the hard-to-clean grooves that can trap food particles and bacteria which can lead to cavities.
Combatting Dental Anxiety
The dentist's office can be a scary place for little ones, but it absolutely doesn't have to be! Part of encouraging your child to maintain proper oral hygiene is to encourage them to look forward to their twice annual dental visits. We promote an anxiety-free experience and use gentle sedation options, including nitrous oxide (laughing gas) and oral conscious sedation depending on your child's needs. Rest assured, your child will have a positive experience at our office!
Contact Us to Schedule an Appointment!
Ready to give your child the gift of a cavity-free smile? Please contact our office to schedule an appointment today! We can also answer any of your oral health questions!